The SONOSHAKE offers a wide range of applications for sample preparation in many areas of analysis, e.g. in environmental and food analysis, as well as in medical diagnostics. Any sediment in the sample can be dissolved by defined sample can be dissolved by defined shaking. The additional ultrasound homogenises the sample.
Ultrasonic bath DT 1028 F
Those who already have a SONOREX DIGITEC DT 1028 F ultrasonic bath can easily retrofit it with the SA 1028 shaking attachment.
The samples can be sonicated in defined time as well as in continuous operation. Rapid degassing via DEGAS function is also possible. The shaking attachment allows gentle to strong horizontal movement up to a maximum of 20 mm through four different shaking frequencies. Both processes can be carried out simultaneously or separately. For example, pre-homogenisation can be achieved with a defined shaking frequency and final homogenisation with ultrasound in a significantly shorter time.
SONOSHAKE Shaker Attachment SA 1028
Analogue setting of time and shaking frequency
Horizontal movement: adjustable in 4 steps
Constant amplitude 20 mm, regardless of the load
Easy removal of the roller carriage
Quick assembly of the mounting brackets
EK 10 - 250 for laboratory flasks (order separately)
Shelf space for laboratory flasks approx. 410 x 280 mm (L × W)
Recording of

36 × 10 ml flask
36 × 25 ml flask
18 × 50 ml flask
12 × 100 ml flask
10 × 250 ml flask

Total shelf space approx. 850 x 360 mm (L × W)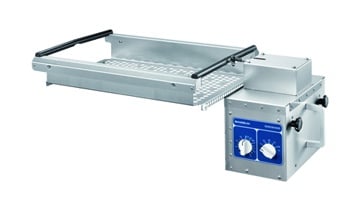 Ready-to-use set - order no. 3257
SONOSHAKE

5.829,00

€

excl. 19 % VAT, plus. ShippingStandard shipping Germany: up to 30 kg: 6,90 EUR; 30-50 kg: 49,00 EUR; from 50 kg: 99,00 EUR; Hazardous goods shipping Germany: plus 11,50EUR
(Prices only for Germany and traders)

excl. 19% VAT

plus Shipping costs

Add to basket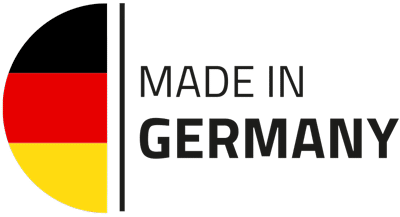 We - a Berlin-based family business in its third generation - specialise in the development, manufacture and distribution of ultrasonic devices, corresponding accessories and application-specific cleaning and disinfection preparations. The high vertical range of manufacture, a modern production facility and motivated employees distinguish us and are guarantors for constantly new quality products.