The ultrasound method is proven and firmly established in the pre-cleaning, cleaning and disinfection of contaminated instruments in clinics and practices. It offers numerous advantages, such as fast instrument circulation and a reduction of the disinfection time to five minutes. The instruments are protected and due to the efficient cleaning, even hard-to-reach places can be cleaned by ultrasound - with economical water, chemical and energy consumption.
The SONOBOARD stainless steel cabinets with built-in ultrasonic baths combine these advantages with mobile flexibility and low installation effort. It is a practical addition to the sink unit or can be used as a stand-alone unit.
The double-walled stainless steel cabinets are equipped with surface-mounted fronts and all-round rubber seals on doors and panels. Their flexible positioning thanks to lockable castors, the ergonomic working height and the additional storage space make them a high-quality component of central sterile supply.
SONOBOARD offers high resilience to scratches and impacts and is extremely resistant to chemicals. The smooth stainless steel surfaces prevent the accumulation of germs and bacteria and meet the highest hygiene requirements. Commissioning and operation are quick and easy.
SONOBOARD is supplied as a ready-to-use set; only the power supply and the drain pipe need to be connected before commissioning.
The two versions SONOBOARD Standard and SONOBOARD MIC are available matched to different types of instruments. They have different features.
SONOBOARD Standard for standard instruments:
Features:
Operation on the front
Digital control unit with temperature monitoring according to KRINKO recommendation*.
Suitable for 1/1 DIN and ISO baskets


* Recommendation of the Commission for Hospital Hygiene and Infection Prevention (KRINKO) at the Robert Koch Institute (RKI) and the Federal Institute for Drugs and Medical Devices (BfArM) Bundesgesundheitsblatt 2012 - 55:1244-1310
SONOBOARD MIC for standard and rinseable MIC instruments:
Features:
Safety through patented individual instrument rinsing and testing
Patented suction rinsing principle
Patented universal adapter for instrument connection without changing seals
Temperature and level monitoring
Reproducible programme sequence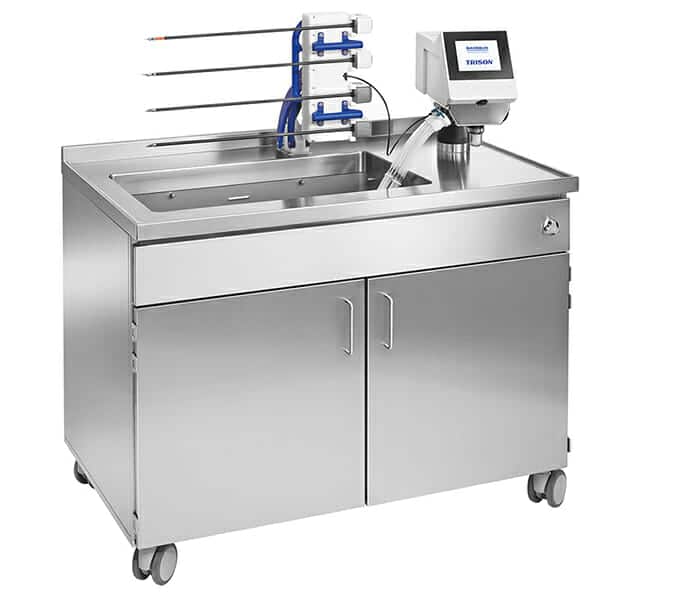 SONOBOARD TRISON for standard, robotic and rinsable MIS instruments:
Features:
Improved cleaning through combination of ultrasound, rinsing and movement for robotic instruments

Design adapted to robotic instruments

Safety through individual instrument rinsing and testing

Simple instrument connection

Temperature monitoring with warning function Log function as right- and
Left version available