The trough dryer is used for quick drying of cleaned and rinsed workpieces. The air heated by heating elements is directed specifically onto the material to be dried via optimally arranged air guides. This enables fast and intensive drying, especially for materials with high water adhesion. A small part of the circulating air throughput is always exchanged via the system, which is open at the top. This preserves the ability of the circulating air to absorb moisture.
The desired drying temperature and operating time are set via the controls on the front. In addition, an automatic temperature switch-off is integrated, which switches off the heating elements if the temperature exceeds 120 °C in the interior. The dryer is thermally insulated from the outside by aluminium-coated fleece and must be placed in a well-ventilated room.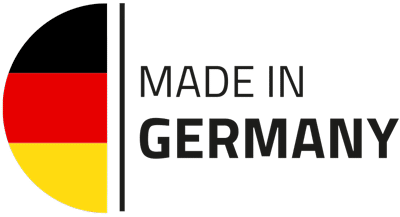 We - a Berlin-based family business in its third generation - specialise in the development, manufacture and distribution of ultrasonic devices, corresponding accessories and application-specific cleaning and disinfection preparations. The high vertical range of manufacture, a modern production facility and motivated employees distinguish us and are guarantors for constantly new quality products.