Oil separators OX 16 to OX 210 for removing floating floating oils and greases from cleaning fluids
Oil separators are used to extend the service life of aqueous cleaning liquids. The mixture of oil and cleaning liquid is fed from the ultrasonic cleaning bath into the first chamber of the oil separator. Here, due to gravity, the oil is separated from the aqueous liquid at coalescence plates. This does not fall below the waste water limit values. The remaining liquid flows into the second chamber at the bottom and rises there according to the principle of communicating pipes. In the second chamber there is an immersion pump which pumps the liquid through a fine filter back into the ultrasonic bath. The oil separators OX 16 to OX 210 each consist of the basic unit OX 500 and the connection set AOX for connection to the ultrasonic bath.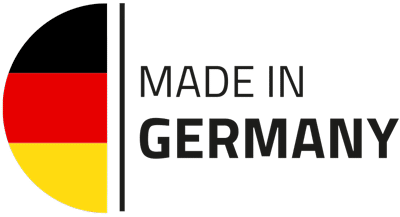 We - a Berlin-based family business in its third generation - specialise in the development, manufacture and distribution of ultrasonic devices, corresponding accessories and application-specific cleaning and disinfection preparations. The high vertical range of manufacture, a modern production facility and motivated employees distinguish us and are guarantors for constantly new quality products.