SONOREX TECHNOLOGY RM / ZM
Our professional ultrasonic cleaners from the SONOREX TECHNIK range are used in industry and service for effective parts cleaning. Areas of application include the cleaning of filters, valves, injection nozzles, carburettors, turned parts, tools, spark plugs and many more. For an optimal cleaning result, we offer you a wide range of suitable cleaning preparations.
High-performance ultrasonic cleaner for versatile applications
The proven and particularly robust SONOREX ultrasonic baths clean thoroughly and gently by means of intensive cavitation bubbles, even in the hard-to-reach places of the cleaning objects.
A user-friendly rotary handle control is used for easy adjustment of the cleaning time. Matching baskets, lids and cleaning and disinfection concentrates are available as accessories for optimally coordinated ultrasonic cleaning.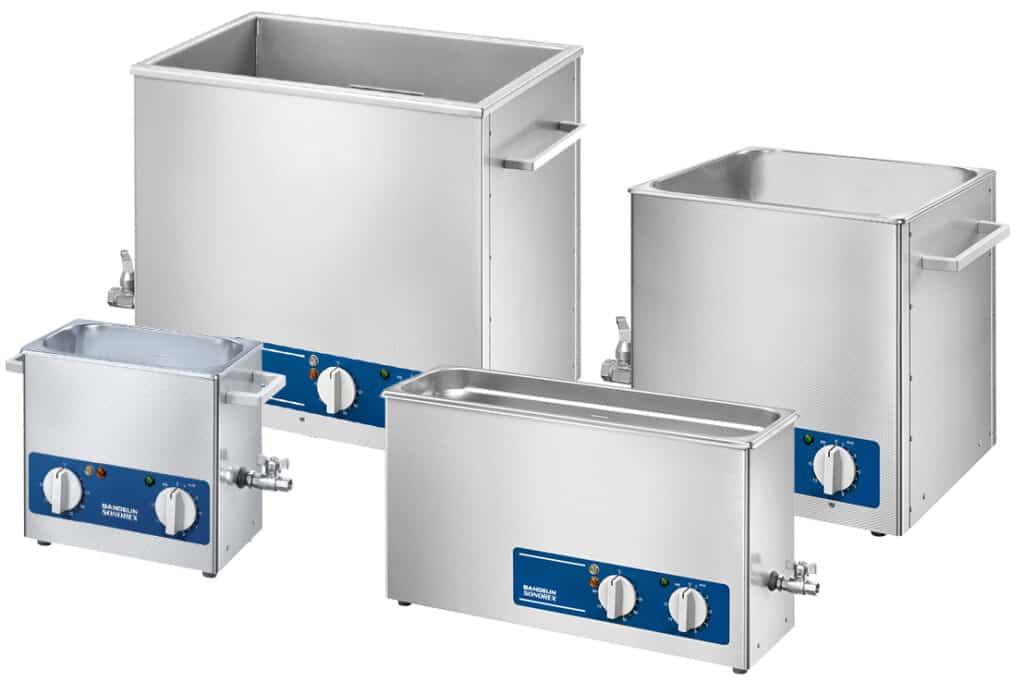 | | | | Inner dimension LxWxD [mm] | | Nominal ultrasonic power [W] | | | |
| --- | --- | --- | --- | --- | --- | --- | --- | --- |
| | | | | | | 3-way ball valve G 1 incl. hose and hose nozzles, on the left side; brass, galvanically coated | | |
| | | | | | | 3-way ball valve G ½ incl. hose and hose nozzles, on the left side; brass, galvanically coated | | |
| | | | | | | 3-way ball valve G ½ incl. hose and hose nozzles, on the left side; brass, galvanically coated | | |
| | | | | | | 3-way ball valve G ¾ incl. hose and hose nozzles, on the left side; brass, galvanically coated | | |
| | | | | | | 3-way ball valve G 1 incl. hose and hose nozzles, on the left side; brass, galvanically coated | | |
| | | | | | | 3-way ball valve G 1 incl. hose and hose nozzles, on the left side; brass, galvanically coated | | |
| | | | Inner dimension LxWxD [mm] | | Nominal ultrasonic power [W] | | | |
| --- | --- | --- | --- | --- | --- | --- | --- | --- |
| | | | | | | 3-way ball valve G 1 incl. hose and hose nozzle 1" | | |
| | | | | | | 3-way ball valve G 1 incl. hose and hose nozzle 1" | | |
| | | | | | | 3-way ball valve G 1 incl. hose and hose nozzle 1" | | |
| | | | | | | 3-way ball valve G 1 incl. hose and hose nozzle 1" | | |
| | | | | | | 3-way ball valve G 1 incl. hose and hose nozzles, on the left side; brass, galvanically coated | | |
| | | | | | | 3-way ball valve G 1 incl. hose and hose nozzle 1" | | |
| | | | | | | 3-way ball valve G 1 incl. hose and hose nozzle 1" | | |
| | | | | | | 3-way ball valve G 1 incl. hose and hose nozzle 1" | | |
| | | | | | | 3-way ball valve G 1 incl. hose and hose nozzle 1" | | |
| | | | | | | 3-way ball valve G 1 incl. hose and hose nozzle 1" | | |